Welcome to Big Horn Steakhouse
Big Horn Steakhouse Haugesund is located in "Kråkereiret" by Risøy Bridge, entrance from the quay. Here you can enjoy both a wonderful meal and a wonderful view over Smedasundet. The restaurant has seating for up to 100 people, as well as outdoor seating on the terrace in summer. There is a separate VIP-room for private parties, business dinners and conferences.
Underneath you will find the current campaigns for Big Horn Steakhouse Haugesund.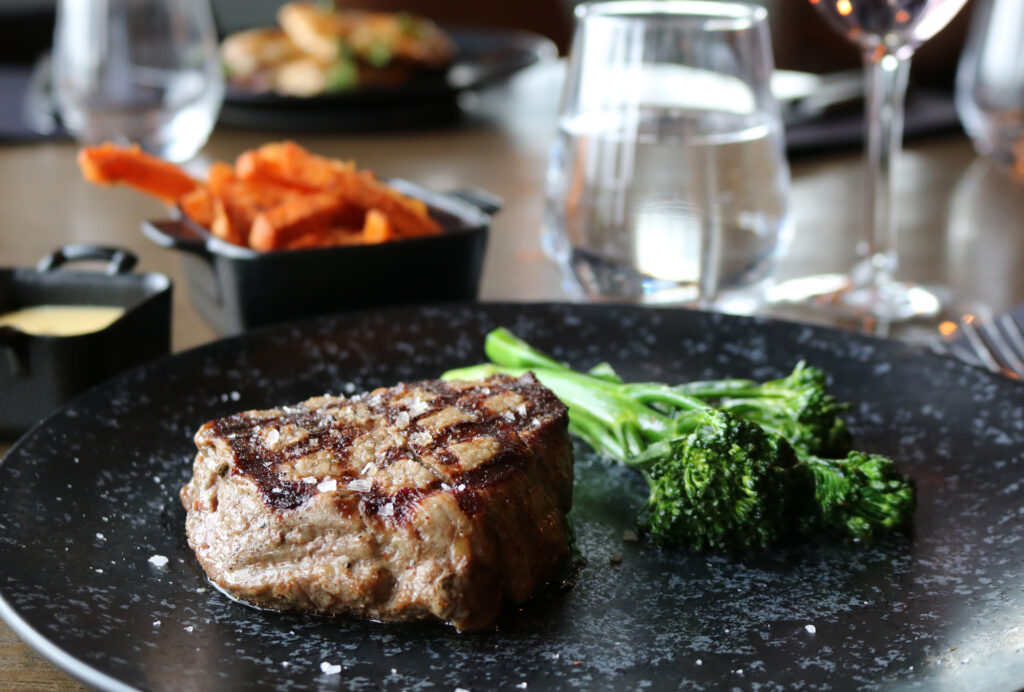 For a limited time, you get NOK 100 off the bill when you buy 2 courses from our menu. The offer is valid pr person…
Underneath is the Menu for Big Horn Steakhouse Haugesund. If you have any questions regarding allergies, please ask your waiter.
Starters
No. 1 Big Horn's Onion soup

Onion soup served with thyme and cheddar toast

Gluten
Milk
Sulphite
Wheat Flour

110,-

No. 2 Chicken wings

Served with BBQ sauce and parmesan cream

Celery
Egg
Fish
Gluten
Milk
Sulphite
Wheat Flour

139,-

No. 4 Onion rings

Served with smoked paprika- and cheddar cream and bacon jam

125,-

No. 5 Pil-Pil

Sizzling hot atlantic prawns in garlic and chili oil

169,-

No 6. Garlic bread

Garlic bread with parmesan cream

Egg
Fish
Gluten
Milk
Soya
Wheat Flour

159,-

No. 7 Biff Tataki

Thin slices of tenderloin served with chimichurri mayonnaise, parsnip chips, red onion and honey-glaze

179,-
Burgers
No. 91 Texan BBQ

Lettuce, sliced tomato, red onion, bacon, BBQ mayo and cheddar cheese.

Celery
Egg
Gluten
Milk
Sulphite
Wheat Flour

265,-

No. 92 Parmegiano

Lettuce, sliced tomato, red onion, bacon, cheddar cheese, parmesan and parmesan cream.

Egg
Fish
Gluten
Milk
Wheat Flour

265,-

No. 94 Chicken Burger

Grilled chicken breast, lettuce, tomato, red onion, ranch dressing and chimichurri

Egg
Gluten
Milk
Sulphite
Wheat Flour

265,-
Vegetarian burger
No. 95 Beyond Burger

Beyond vegetarian burger, smoked paprika and cheddar cream, lettuce, tomato, red onion and coleslaw

Egg
Gluten
Milk
Sulphite
Wheat Flour

265,-
Burger sides
35,-

35,-

35,-

,-

35,-

58,-
No. 14 Rib Eye 7 oz

Served with asparagus beans, red onion, béarnaise sauce and your choice of potatoes.

329,-

No. 15 Rib Eye 10 oz

Served with asparagus beans, red onion, béarnaise sauce and your choice of potatoes.

449,-

No. 18 Sirloin 7 oz

Served with asparagus beans, red onion, béarnaise sauce and your choice of potatoes.

359,-

No. 19 Sirloin 10 oz

Served with asparagus beans, red onion, béarnaise sauce and your choice of potatoes.

489,-

No. 21 Tenderloin 5 oz

Served with asparagus beans, red onion, béarnaise sauce and your choice of potatoes.

369,-

No. 22 Tenderloin 7 oz

Served with asparagus beans, red onion, béarnaise sauce and your choice of potatoes.

469,-

No. 23 Tenderloin 10 oz

Served with asparagus beans, red onion, béarnaise sauce and your choice of potatoes.

662,-

No. 26 Mexican Pepper Steak 5 oz

Tenderloin with Big Horn pepper sauce, sour cream, creamed sweet corn, padrón peppers and your choice of potatoes.

Celery
Milk
Mustard
Sulphite

379,-

No. 27 Mexican Pepper Steak 7 oz

Tenderloin with Big Horn pepper sauce, sour cream, creamed sweet corn, padrón peppers and your choice of potatoes.

Celery
Milk
Mustard
Sulphite

479,-

No. 28 Mexican Pepper Steak 10 oz

Tenderloin with Big Horn pepper sauce, sour cream, creamed sweet corn, padrón peppers and your choice of potatoes.

Celery
Milk
Mustard
Sulphite

672,-
Side orders
58,-

No. 44 Creamed sweet corn

58,-

58,-

58,-

No. 49 Truffle mac & cheese

58,-

No. 50 Garlic bread

Gluten
Milk
Soya
Wheat Flour

58,-

No. 51 Green salad

Romaine lettuce, cherry tomato, ranch dressing and parmesan

58,-
Potatoes
,-

No. 65 Big Horn potatoes

Fried potatoe slices

,-

No. 66 Garlic potato gratin

,-

,-

No. 68 Sweet potato fries

35,-

49,-

25,-
Extra sauces
No. 60 Chimichurri

Argentinian beef sauce

35,-

35,-

35,-

35,-
Other main courses
No. 30 Surf & Turf

5 oz of beef tenderloin with atlantic prawns, asparagus, red onion, bèarnaise sauce and your choice of potatoes

Celery
Egg
Milk
Mustard
Shellfish
Soya

419,-

No. 32 Honey n` garlic glazed chicken breast

Served with asparagus, red onion, chimichurri and your choice of potatoes.

269,-

No. 33 Spareribs 14 oz

Marinated baby back ribs with coleslaw, BBQ sauce and your choice of potatoes.

299,-

No. 133 Spareribs 21 oz

Marinated baby back ribs with coleslaw, BBQ sauce and your choice of potatoes

375,-

No. 37 Combo-Steak plank (min. 2 persons)

Tenderloin, sirloin, and rib eye. Served with béarnaise sauce, pepper sauce, chimichurri and your choice of potatoes

Celery
Egg
Milk
Mustard
Sulphite

499,-

No. 111 Big Horn's Caesar salad

Grilled sliced chicken, romaine lettuce, bacon, parmesan, croutons and our own Caesar dressing.

Egg
Fish
Gluten
Milk
Mustard
Wheat Flour

199,-
From the sea
No. 38 Grilled filet of salmon

Served with asparagus, red onion, lemon butter, sour cream and your choice of potatoes.

315,-
Dessert
No. 70 Big Horn Sundae

Vanilla ice cream, chocolate sauce, whipped cream, krokan sprinkles and crushed Oreo.

Egg
Gluten
Milk
Nuts
Soya
Wheat Flour

139,-

No. 71 Red Velvet Cookie Dough

Warm cookie dough served with vanilla ice cream, apple compote and bourbon caramel.

Egg
Gluten
Milk
Sulphite
Traces of nuts
Wheat Flour

139,-

No. 73 Chocolate fondant

Served with vanilla ice cream, hazelnuts and wild berries.

Egg
Gluten
Milk
Nuts
Soya
Wheat Flour

139,-

No. 75 Homemade peanut cheesecake

Homemade peanut cheesecake on a chocolate crust with a pinch of maldon salt. Served with vanilla ice cream and raspberry coulis

Egg
Gluten
Milk
Nuts
Peanuts
Soya
Wheat Flour

139,-

No. 77 Creme brûlée

Served with wild berries

139,-

No. 79 Mango and raspberry sorbet

Served with wild berries

112,-
Kids menu
No. 53 Davy Crockett Hot Dogs

2 hot dogs served with your choice of potatoes

129,-

No. 54 Chicken Indiana Jones

Grilled chicken served with asparagus, red onion and your choice of potatoes.

129,-

No. 55 Billy the Kid Texas Burger

Hamburger / cheeseburger served with your choice of potatoes

129,-

No. 56 Buffalo Bill Steak

3,5 oz sirloin served with asparagus, red onion, béarnaise sauce and your choice of potatoes

159,-

No. 57 Pirate Salmon

Grilled filet of salmon served with asparagus, red onion and your choice of potatoes

129,-